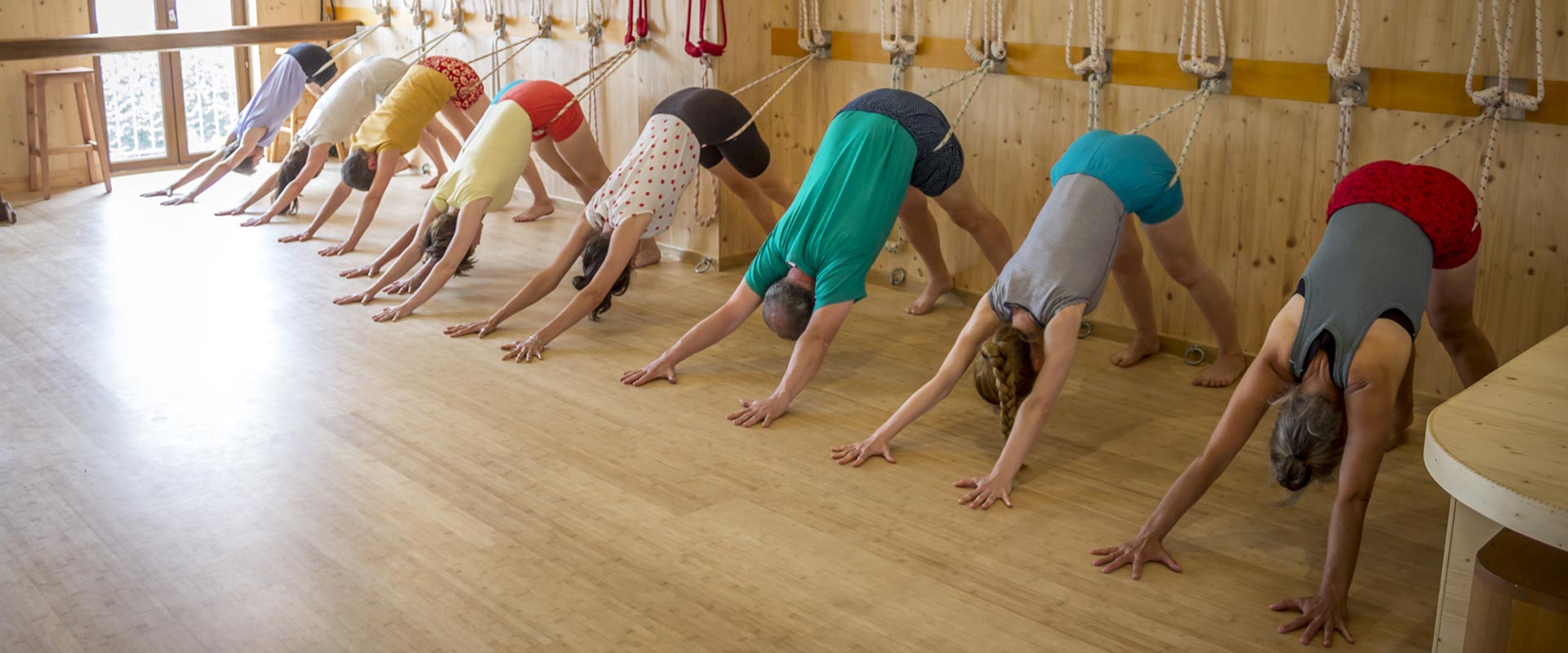 Monday
Tuesday
Wednesday
Thursday
Friday
Saturday
Sunday
9h15-10h45
Level 1
Cédric
10h30-12h00
Level 1 and adapted course
Charlotte
11h-12h30
Levels 2 et 3
Stéphane / Charlotte
12h30-14h00
Dynamic Vinyasa
Stefania
12h30-14h00
Level 1
Stefania
12h30-14h00
Level 1
Brigitte

OR


11h-13h
(2/month*)
Levels 3 and 4
Stéphane / Charlotte
15h00-16h00
Children
8-13 years
Stefania
17h30-19h
Level 1
Stéphane / Annette
16h-17h15
Therapy (appointment)
Stéphane
17h30-19h00
Level 1
Solène
17h30-19h
Level 2
Stéphane / Stefania
18h15-19h45
Levels 2 3 4
Stéphane / Solène
18h30-20h00
General course (All Levels)
Annette / Stefania
19h15-20h45
Level 2
Stéphane / Solène
19h15-20h45
Level 1
Stefania
20h00-21h30
Level 1
Krimhild

19h15-20h45
Levels 2 and 3
Pranayama
Stéphane / Charlotte
19h00-20h30
All Levels
Deep relaxation
Stéphane / Stefania
Legend by level / color
| | |
| --- | --- |
| Level 1 | Beginner's course in the method: introduction and fundamentals (one to two years of lessons)) |
| Level 2 | Course after one or two years of regular classes (sarvangasana) |
| Level 3 | Courses from three years of practice (shirshasana) |
| Level 4 | Intermediate and advanced students, pranayama |
| Children's course | For children aged 6 to 13. Classes from September to July, every Wednesday except during school vacations and public holidays. |
| Therapy courses by appointment | For people who need specific adjustments and cannot take part in the other courses |
| All Levels | Friday 7pm and Sunday 6:30pm classes are all Levels, from 6 months of practice |
Please note that the dynamic Vinyasa class is suitable for people with no physical problems requiring special attention.
⇒To take a trial lesson, no need to book by phone nor by e-mail. 
ATTENTION: During the year, schedule may change. Check the website regularly.
Please remember to bring a towel to protect the blankets during practice, thank you.
PRICES FOR THE YEAR 2022-2023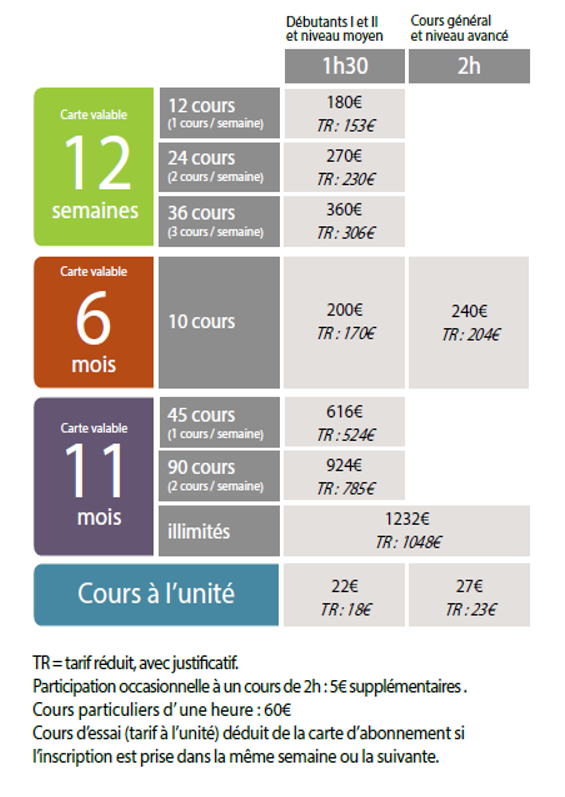 RULES:
The trial lesson, payable at the normal or reduced rate, can be deducted from your card if you take it immediately after the first lesson or the following week, but not beyond. The annual card, calculated on the basis of 45 weeks, is valid from the beginning of September to the end of July. The annual payment can be made in two or three cheques but must be paid when you register.
The annual registration fee for the association, included in the package, will be 30% of the membership fee, and you will need to make two separate cheques or payments: one to the association and one to the teacher. This sum covers the running costs of the association and the hall, insurance, and maintenance of equipment lent.

VALIDITY OF SEASON CARDS:
For both the progress of your learning and the management and organisation of the courses, regularity and assiduity are essential. Please try not to miss any classes.
The cards are personal, non-exchangeable, and non-refundable. The validity date must be strictly adhered to and cannot be extended.
For example, if you take your first course in the first week, whether it is on Monday 5 September or Sunday 11 September, the course will be valid until Sunday 4 December inclusive, after deducting one week of the All Saints' Day holidays without courses.
If the validity date has expired, missed classes cannot be extended, and you will need to purchase a new card, valid for a further 12 weeks. For example, a new card will be valid from Monday 5 December until Sunday 5 March, minus one week of the year-end break, and so on. For the last two months of June and July only, we will offer cards valid for one or two months.
If you get sick, with a valid medical certificate, you can exceptionally make up for missed classes, but by taking a new card, putting them back on it, and coming several times a week. If you are absent for any other reason, such as being on holiday, you will need to take your lessons within the same 12-week period on the same card.
Membership of the French Iyengar Yoga Association is optional and costs €30. It can be done online at www.afyi.fr. It allows you to receive the magazine and national information, to participate in conventions, etc.

REGISTRATION:
Classes start at the beginning of September and finish at the end of July. Each student must fill in a registration form to enable us to follow up on their progress. It must be completed legibly and updated if there is a change during the year (phone, email, or particular problems). You can subscribe to the newsletter on the website to be kept informed of the centre's news.
Courses resume on Monday 4 september.
WILL NOT BE PROVIDED:
Classes from Sunday October 29 to Sunday November 5 (All Saints' Day school vacations)
(ATTENTION: Classes on Saturday November 11 and Sunday November 12 will be held as usual)
Classes from Sunday December 24 to Monday January 1 inclusive (school vacations, resuming on Tuesday January 2)
Classes on Sunday March 31 and Monday April 1 (Easter): THREE-DAY COURSE
Classes from Sunday April 28 to Wednesday May 1 inclusive (spring break)
Classes from Wednesday May 8 to Sunday May 12 (Ascension holiday)
Classes on Sunday May 19 and Monday May 20 (Pentecost) THREE-DAY COURSE
From Monday July 8, classes will be held at reduced hours from Monday to Thursday, up to and including Thursday August 1.
TEACHING :
The courses are all given by trained and certified teachers from the RAMAMAN I IYENGAR© MEMORIAL YOGA INSTITUTE of PUNE (India) and members of the FRENCH ASSOCIATION OF YOGA IYENGAR©.
HOW THE CLASS IS RUN
The door is open 10 to 15 minutes before the start of the course so that you can present your card and prepare yourself. We ask you to be on time so as not to miss the start of the course or disrupt it.
Take off your shoes on the landing and leave them on the shelves. Avoid talking and making noise if the course is not finished, in order to respect the participants' relaxation time. Avoid carrying valuables with you, the centre is not responsible for any loss,
forgotten or stolen. Please remember to switch off your mobile phone before entering the room, their use in the centre is strictly forbidden.
BEFORE THE CLASS
It is essential not to eat before class, chew gum or take any medication. After a meal, wait at least 4 hours before
practice, 2 hours after a light snack. Remember to empty your bladder and bowels before the course starts. Be sure to wear clean, soft and comfortable clothing (preferably a t-shirt and shorts). For hygienic reasons, you can bring your own mat (available on request at the centre). If you tend to sweat, bring your towel.
It is imperative that you inform the teacher of any particular event, fatigue, problem, menstruation, pregnancy, etc., which requires special arrangements for
parctice.
AFETER THE CLASS
Together, carefully put away all the materials provided and leave the room clean and welcoming for the next session. Keep your
inner calm by avoiding noisy conversations in the changing rooms so as not to disturb the next class that begins.
Be assiduous and regular in order to progress, please do not miss any classes and catch up on your missed classes!
You can take a trial class at any time of the year, without having to inform us.
Participation in a trial lesson is only possible in a level 1 class.

No need to register to participate. You just need to arrive 10 to 15 minutes in advance for the registration formalities. If you take out a subscription in the same week or the following week, the trial lesson fee (22€) will be deducted from the subscription card. People who have been practising another yoga method for several years must also participate in a Level 1 trial class.
If you are a practitioner of the Iyengar® method (minimum 3 months of practice) and you cannot come to the level 1 schedule, you can exceptionally come on a level 1 and 2.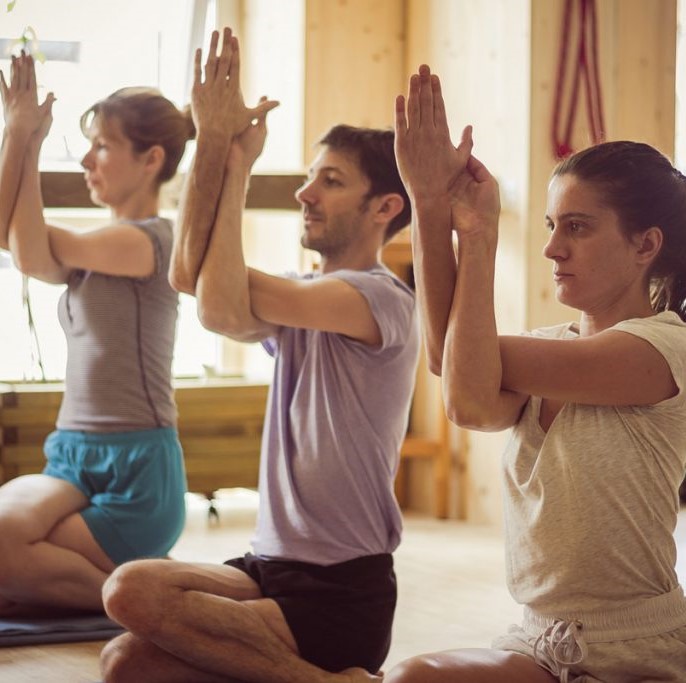 IMPORTANT RECOMMENDATIONS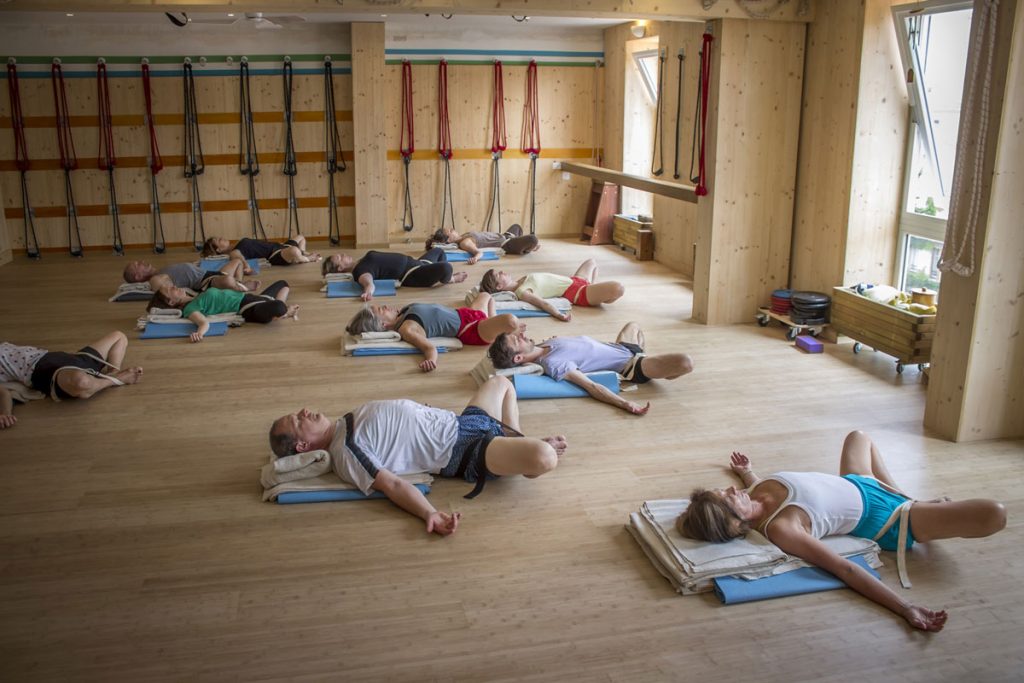 SANITARY PROVISIONS COVID 19
PLEASE READ IT CAREFULLY BEFORE COMING TO CLASS
Due to the ever-present Covid-19 context, we are obliged to respect measures taken specifically for your well-being and health (updated regularly).
WEARING THE MASK
We ensure that the required safety distances are observed: You are advised to wear a mask when entering the building, as well as when entering the studio and the changing rooms, and take it off once you are on your mat, also if you have to move around, look for supports, go to the toilet etc. you will have to put it on again. Lightweight cotton ones can be purchased on site if required.
There is no need to book your place in advance as the number of participants is limited. But because of the large number of classes on offer and the space available, you will never be turned away. We are not in a position to handle a daily planning and booking system by telephone or internet.
HYGIENE RULES AND USE OF MATERIALS
Surface cleaning and disinfection are provided. Gel is also available at the entrance and in the changing rooms.
We invite you to bring your own mat, if possible your strap, a blanket, your mask, your mat. Also remember to bring a small towel for hand washing and a sarong or large towel to protect the covers. The equipment can be lent to you on request; we will ask you to disinfect it and store it carefully before leaving.
If you have a cough, cold or fever, please do not come to class.
Please respect these rules for the comfort and convenience of all.
If you want to take yoga classes, you will quickly discover that the offer is plethoric. Indeed, in France, there is no official national "diploma" as there is for the teaching of dance, or judo, for example. The profession is not regulated, so anyone can call themselves a yoga teacher, as it has become popular again, via American influence and fitness clubs, borrowing more or less certain yoga techniques and under various new names.
"Our Iyengar Yoga classes last from 1h30 to 2h depending on the level. Yoga, traditional or also called Hatha-Yoga, according to the teachings of B.K.S. Iyengar is a rigorous method, based on the development of one's sensitivity and perceptions of postural alignment, sense of direction and the energetic flow of the asana. It sometimes uses supports, to allow beginners to approach and have a better understanding of asanas, as well as to propose therapeutic applications and adaptations and also to allow everyone to practice according to their possibilities and limitations. The courses are divided into different levels, beginners, intermediate and advanced. Specific courses for special cases are also taught separately.
The Iyengar Yoga Center of Marseille, as a non-profit association, was created in 1996 by Stéphane Lalo, with the permission and encouragement of B.K.S. Iyengar and is accredited by Ramamani Iyengar Yoga Institute Memorial PUNE to represent and disseminate his teaching. It is also a teacher training centre since 2007 (see chapter on training).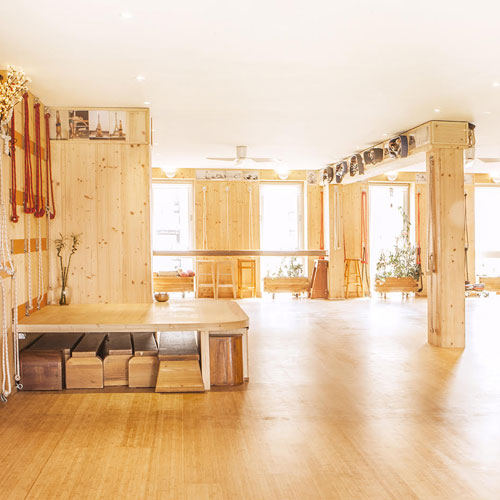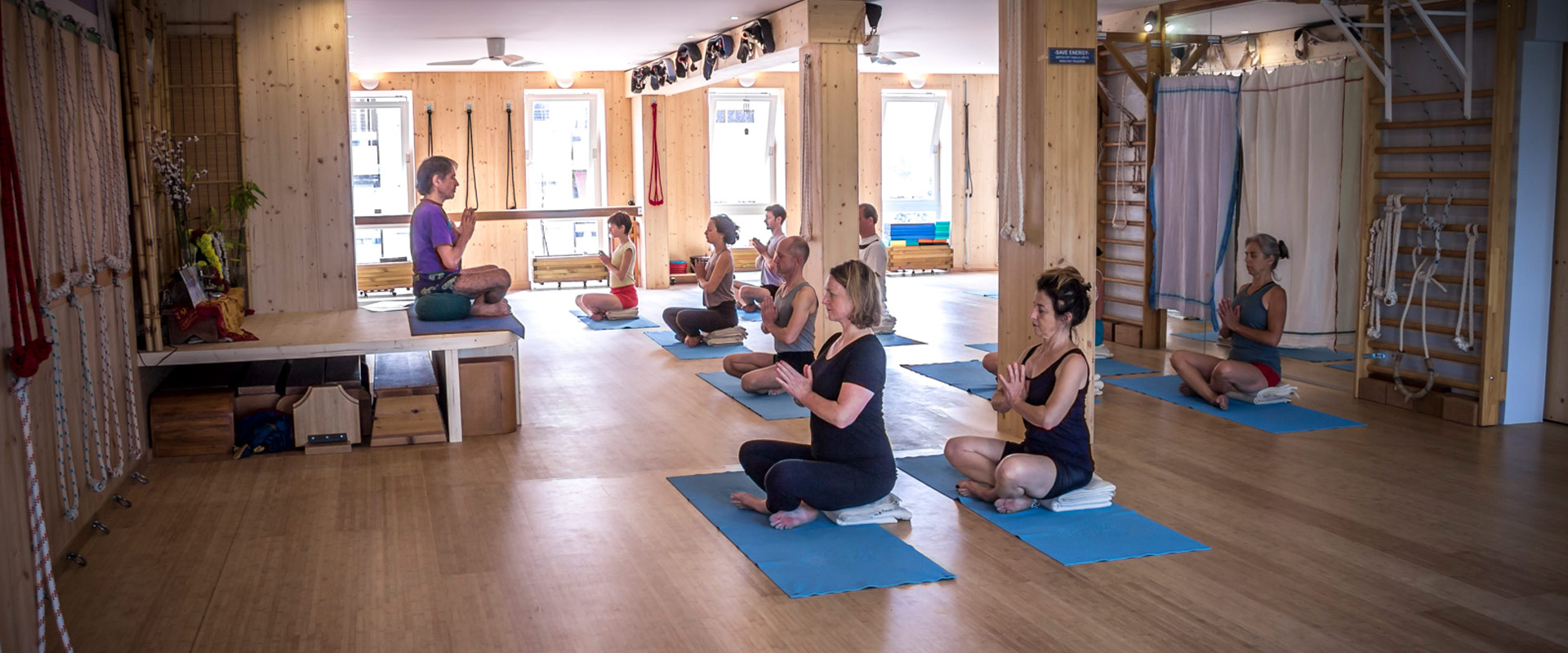 French Iyengar Yoga Association
As a practitioner and registered member of our centre, you are now part of the Iyengar® Yoga community in France.
In this sense, we strongly invite you to join the AFYI ( French Association of Iyengar Yoga®) in order to benefit from the numerous advantages it offers and to be informed of the latest news and events, in France and internationally.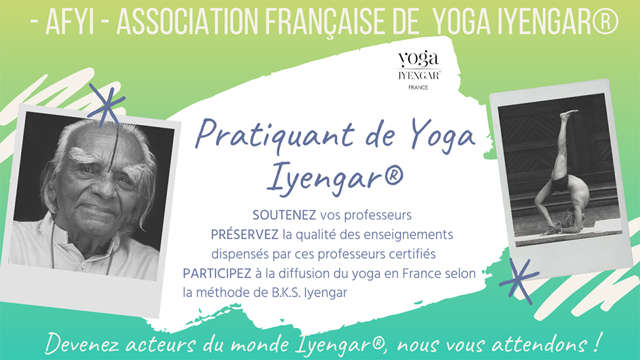 Children's and teenagers' classes
CONTACT US FOR REGISTRATION
Progressive and playful learning of yoga
Promotes the development of the child, helps him or her gain self-confidence, while providing rigour and self-control.
Harmonious and balanced discovery of yoga, practice of adapted postures, approached with play and creativity.
Learning to be more aware of one's body, developing concentration and relaxation.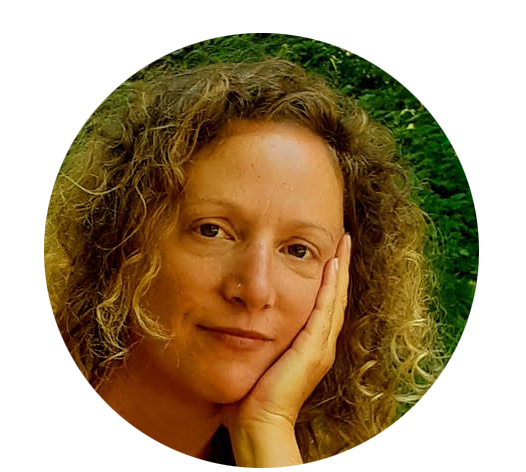 Elle suit depuis 2017 une formation d'enseignant avec Stephane Lalo.
Enseignante en collège, elle s'intéresse également à l'enseignement du yoga aux enfants et aux adolescents.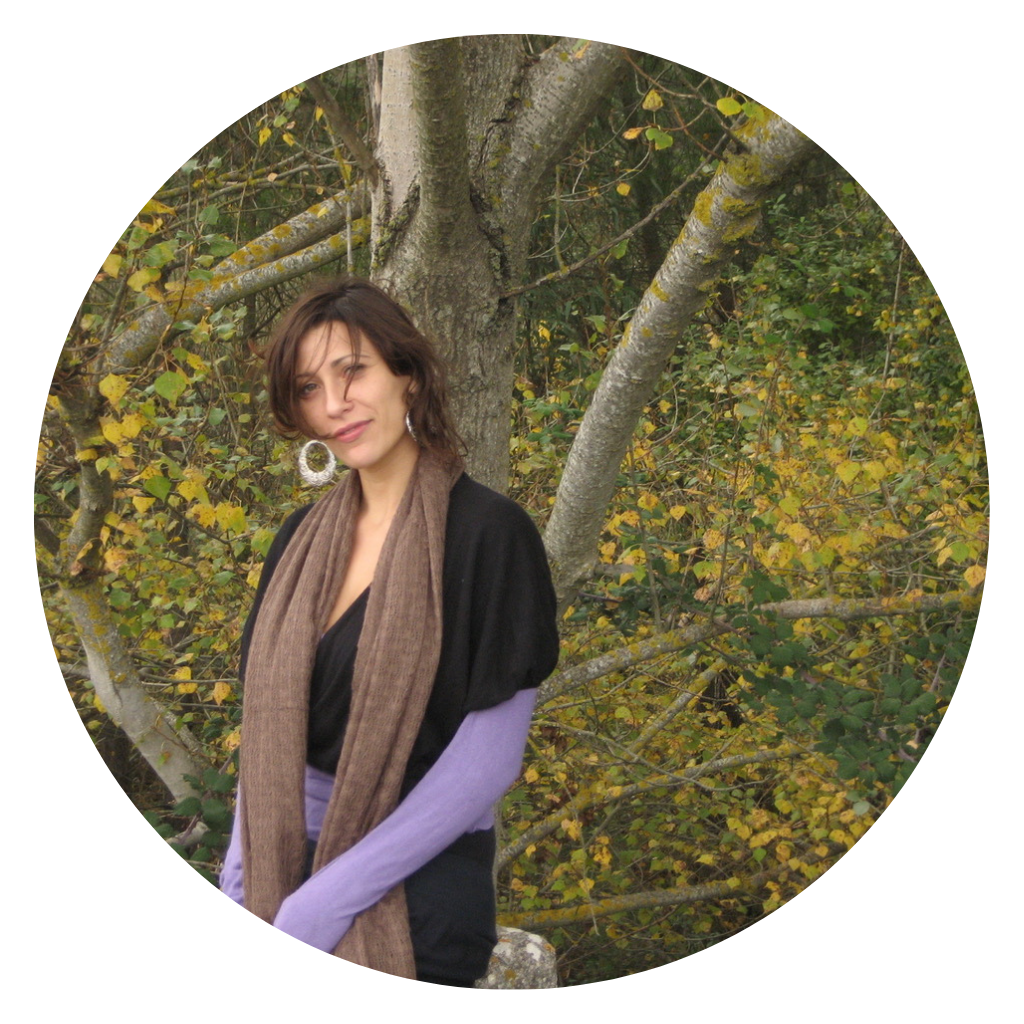 Après avoir obtenu un master 1 en éducation supérieure professeur des écoles, Stefania, d'origine italienne, se forme à la pédagogie Montessori à Paris. Parallèlement à ses études elle se dédie à son autre passion, le yoga…
every wednesday
Except during school holidays
14h15-15h15
15h30-16h30
Du 5 septembre 2022 au 1er juillet 2023

Trial lesson is possible only during the month of September and January, deductible from the subscription: 10 €
Year-round card of 36 classes: 290 € in the year
1er trimestre du 4 septembre au 18 décembre : 14 cours : 135€
2ème trimestre du 8 janvier au 8 avril 2020 : 12 cours : 115€
3ème trimestre du 29 avril au 1er juillet : 10 cours : 95€