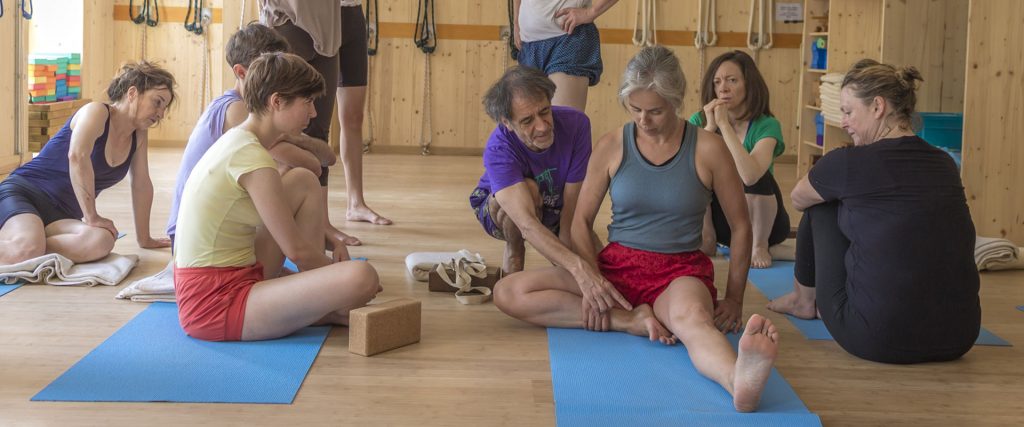 This training will consist of the theory and practice of teaching basic asanas and pranayamas of B.K.S. Iyengar
in this case all the asanas on the list of the syllabus of Geeta Iyengar "Preliminary Course", available in French and in English.
It will include 400 hours of teaching minimum spread over a little more than three years.
the purpose of this training is:
to acquire a personal discipline and to be able to practice regularly independently;
to gain a good understanding of the postures, their sequence and the link between them;
to acquire a good presentation and a correct sense of alignment;
to acquire a basic knowledge of practical anatomy and physiology, in relation to the postures;
learn the use of media in a proper way;
to acquire a basic knowledge of yoga philosophy: yoga sutras, bhagavat gita, hatha yoga pradipika, upanishads in relation to practice.
the purpose of this training is:
to be able to teach a course to beginners
to be able to teach beginners, by learning the:

demonstration principles
principles of instruction
observation principles
correction principles
Meaning:
to understand the relationship between practice and teaching
to learn to state clear and precise instructions
to demonstrate skill and attention in observing students in class
to get some control and some insurance in a course
learn to correct students with explanations and adjustments
to learn the sequence of postures and to be able to teach Sirsana and Sarvangasana and to be able to assist the students in these asanas.

YOGA IYENGAR®, A GUARANTEE OF QUALITY
In recent years, we have witnessed a craze for the practice of yoga in France and around the world. This leads to a proliferation of styles of yoga as well as the number of practitioners.
In this general effervescence, how has Iyengar® yoga managed to regularly integrate many practitioners and teachers while preserving its essence, ethics and integrity?
EACH PARTICIPANT MUST GET
the basic material for practice
the books of BKS Iyengar and Geeta Iyengar
other books or teaching materials will be advised later
Interventions by external teachers on specific topics will be proposed and written work will be requested from the participants.
It is recommended that applicants practice at home daily as much as possible. They will have to take at least one to three classes a week very regularly.
In the second year, they will have to assist a certified teacher in a course, once a week (these last recommendations are recommended, according to the geographical possibilities) and they will have to be members of A.F.Y.I. , the French Yoga Association Iyengar.
There will be 8 weekends and 6 days per year for the first year of pre-training as well as for the next two years of training, which will be validated by an examination organized by A.F.Y.I.
The 2017-2020 training begins in the fall of 2017
NOTE: According to Pune's updated guidelines as of December 10, 2017, all Iyengar Yoga training courses worldwide will be completed in 2020.
The new provisions to prepare future teachers will now be in the form of a local learning with the teacher, so this will be the last training scheduled for that date.
First year
23 and 24 SEPTEMBER 2017
13 and 14 JANNUARY 2018
10 and 11 FEBRUARY 2018
24 and 25 MARCH 2018
12 and 13 MAY 2018
2 and 3 JUNE 2018
6-day internship in Chaloux, Alpes de Haute Provence from August 26th to September 1st 2018
2017 participation (incl. VAT included)
1280 € the six week-end of the first year and the 6-day internship in August.
The training will take place in Marseille, Iyengar Yoga Center, 19 place Sébastopol 13004 and a week in residential in the Alps.
The first year is a "preparation" for this training that other people can not undertake over three full years can undertake.
The examinations granting the certificate of Base 2 by A.F.Y.I. will take place in Autumn 2020. This will be the last possible training as such.
Second Year (2018-2019)
22 and 23 september 2018
6 and 7 october 2018
17 and 18 november 2018
January 19 and 20, 2019
February 16 and 17, 2019
March 16 and 17, 2019
May 18 and 19, 2019
June 22 and 23, 2019
Workshop in Tardoun from August 11 to 17, 2019
Third Year
28/29 September 2019 and 5/6 October 2019
October 19/20 and October 26/27
30 Novembre et 1er Décembre 2019 : examen blanc
4/5 ou 11/12 Janvier 2020
8/9 ou 15/16 Février 2020
Summer internship: From August 16th to 22nd in the Tardoun (or from 9th to 15th if impossibility)
19/20 Septembre 2020
12/13 november 2020
The two final exam sessions AFY will take place 16/17 of January and 20/21 of Marsh 2020 in Marseille.

Participation 2018-2019 and 2019-2020 (including T.T.A.)
1440 € for the next two years. (Eight weekends)
Summer internship of one week is not included (390 €)
Annual registration at the AFYI mandatory after the first year.
The first year must be completed and a commitment must be made following this first year for the two consecutive years.
It is essential not to miss a single weekend. Apprenez à prononcer For special and exceptional reasons, consequent illness or unplanned transport strike, only one session may be missed.