Gabriella Giubilaro is world-renowned for her dynamic teaching of Iyengar yoga, her good humour, her attention to the individual needs of each student and her clear presentation of the asanas. His simple and easily understandable explanations of yoga postures allow all students to reveal the intelligence hidden in their own bodies and thus encourage them to express their full potential. Gabriella started practicing yoga in 1973 in Florence, Italy. After a doctorate in physics, Gabriella dedicated her life to yoga in the tradition of B.K.S Iyengar. She began studying with the Iyengar family in 1983. Since 1987, she has been teaching in her centre in Florence and giving workshops in Italy and abroad.
Schedule:
10 March : 17h30 -20 h30

11 March: 10h-13h et 15h-17h30

12 March: 9h-12h et 14h-16h30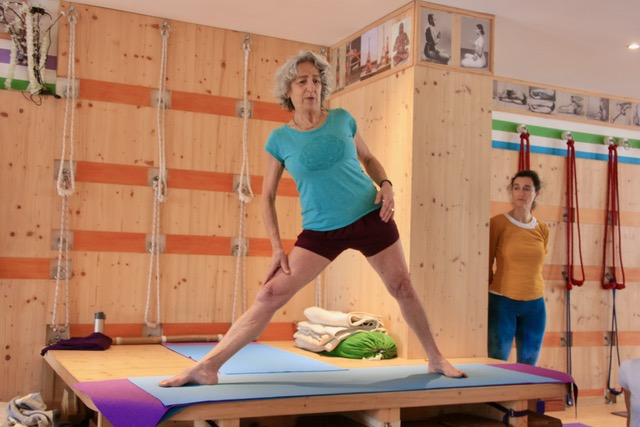 The course will be delivered in English without translation. Gabriella's English is simple and easy to understand.
Cost of the course:
240 € two days and a half

100 € one day

50 € for friday evening
To register:
You must first send us your request by email to this address yogaiyengarmarseille@gmail.comand wait for a confirmation from us before sending the registration form.
Once you have received confirmation from us, you can complete the registration form below and send it to us by post.
For the payment, you have to send :
A deposit cheque of 50% of the total amount of the course to the order of Stéphane LALO. It will only be cashed at the end of the course.
A cheque for membership of the Dipika Association, of 30 euros, payable to "Association Dipika". This amount is included in the total price of the course.
NOTE: Cheques will not be cashed until the end of the course, but in the event of withdrawal, the deposit and membership fee cannot be refunded.
=>Download the registration form
Centre de Yoga Iyengar
19 Place Sébastopol
13004 MARSEILLE
Some pictures of the March 2022 course